COVID-19 updates
On this page we've listed out any updates we have on COVID-19 to make sure all our clients have the most up to date information on when we will be reopening and any changes to protocol. Thank you for your patience during this difficult time.
26th November
🔔 OPEN FROM 2nd DEC 🔔 More appointments added
We are opening up from 2nd Dec, a day earlier than expected which is a huge bonus as it means we can see even more clients when we get back! ⠀
We've opened up the diary for additional hours so book your appt today by following the link below! We can't wait to see everyone soon!⠀
⠀
https://buff.ly/2DSxQC4 – link in bio⠀
⠀
The Winslow Team ❤️
24th November
 REOPENING
Fabulous news this evening! Not only are we allowed to open but a day earlier than expected! 😍
We have already contacted lots of our clients today but will be getting in touch with lots more tomorrow!
You can also book any appts online via our website
Thank you once again to our amazing clients who have supported us during lockdown 2.0!
Can't wait to see you back in the clinic on Dec 2nd
Maria & Elle ❤️
11th November
Skincare to your doorstep – FREE OF CHARGE
⠀
Whilst we are in lockdown, doesn't mean your skincare has to suffer! Whilst we are closed we are offering FREE delivery to the Cuckfield, Haywards Heath, Burgess Hill, and Lindfield area or free contactless collection from our clinic.⠀
⠀
THREE WAYS TO ORDER⠀
✅ Call – 07867507037 ⠀
✅ Email – ⠀
✅Shop – www.shop.winslowskincare.co.uk to shop products⠀
⠀
You can then collect free of charge from the clinic, we are open Mon-Fri 9am to 1pm for collections or we can drop your products to you free of charge!⠀
⠀
We are still open for online skincare consultations as well, contact us today to arrange a video consultation!
9th November

🙏🏼 THANK YOU 🙏🏼
We know we've been a little quieter than usual on our social media & updates page, it's just been a busy and emotional week for us!
Since we got the news last Saturday that we would have to close for lockdown 2.0 and then rescheduling all of our November clients as well as sorting last minute product orders and deliveries…it's been a whirlwind week!!
However we did want to say a HUGE thank you, yet again, to our amazing team. Maria and I couldn't have got through the past week without you girls and we don't know where would be without guys! ❤️❤️❤️
And our second HUGE thank you is to our incredible clients who have been so supportive with heartfelt messages of love and encouragement, it really does make our job so much more special ❤️ thank you 🙏🏼
We will be posting lots and lots over the next few weeks with video blogs, competitions as well as being open for online consultations. So although we may not be open for treatments, we are most definitely open for business!
More info coming on all of this over the next few days!!
Thank you again and we can't wait to get back in the treatment room soon, working some skincare magic
Elle & Maria ❤️
31st October
Unfortunately, we have been told that we will have to close from 3rd November till 3rd December in a national lockdown. We do however have about 3 days left until we have to close so we do have a few appointments available, book up now! We have opened up extra hours and appointment times to accommodate clients.
25th September
As of today it's compulsory for businesses such as ours to display the NHS @nhsengland Track and Trace QR code that can be scanned using the Track and Trace app to help stop the spread of COVID 19 and keep us safe and well (and open for business!)
Thanks so much, the Winslow Team ❤️
17th September
Reception is now open, you can purchase products, book appointments, and just pop in and say hello to our two lovely receptionist, Louise, and Ella. They would love to see you!⠀
⠀
Therefore now before your appointment you can come and wait in reception, we still won't be serving any refreshments, unfortunately. After your appointment, your therapist will now take you through to reception before saying goodbye. ⠀
⠀
NB: The toilets are still closed⠀
⠀
We can't wait to see you in clinic soon!⠀
The Winslow Team ⭐
2nd September
🌟Chloe is back 🌟⠀
We are super excited to have Chloe back in clinic from 1st September, you can now book online with Chloe using the link in bio⠀
https://buff.ly/2DSxQC4⠀
She will be offering a full range of treatments including⠀
🌟Micro-Needling⠀
🌟Makeup consultations⠀
🌟CACI Non-Surgical ⠀
🌟Teen Prescription Facials⠀
🌟Massage⠀
and much more!⠀
We are so excited to have her back and we know all our lovely clients are dying to see her as well! ⠀
1st September
We wanted to update our clients on what our plans for Winslow in light of COVID-19.
Gaps between appointments – we will be keeping gaps in between each client, in order to maintain minimal contact and allow us adequate time to deep clean and sterilise the room in between clients.
PPE & hygiene– each therapists will wear a disposable mask, apron and gloves which will be disposed of after each client. The therapist will also wear a visor in the treatment room, which will also be sterilised after each client. During the treatment, the therapist won't wear gloves but will wash their hands regularly, as we have been told by both Barbicide and Dermalogica that this more effective than wearing gloves.
Sanitisation stations – when you enter the treatment room there will be a sanitisation station with anti-bacterial gel and an opportunity to wash your hands if you prefer.
Come straight into the treatment room – in order to reduce contact, we will ask that all clients wait in their car and come straight into the treatment room when the therapist comes to collect them. We won't ask you to come into reception.
Toilets – toilets will be closed, again to minimise contact with reception.
Payments – we will ask that clients pay for their appointments in advance, 2-3 days before their appointment is booked. This means that they will not have to touch the card machine as most of our payments are above £45, contactless will not be possible. If you purchase a product whilst at Winslow, we will send you an invoice to pay later, unless it's under £45 and can be a contactless payment. This will only be in place for the months of July & August.
Cancellation policy – we are operating a slightly longer cancellation policy of 72 hours compared to our previous cancellation policy of 48 hours. We are planning to reduce this back down to 2 days, from September.
RejuvaPen – because RejuvaPen draws blood, due to new regulations with COVID-19. We will not be offering any RejuvaPen treatments until September. We apologies for any inconvenience.
Price increase – we have had lots of clients asking us if we will be increasing our prices in line with the new costs of PPE, extra appointment padding time etc. We will not be increasing our prices overall. However, for the month of July & August, we will be asking for £4 per appointment to cover the cost of the PPE. This charge will be per appointment, not per client. E.g. if you have 5 appointments booked then the additional cost will be £20 on top of your appointment cost.
And now, what new features are we introducing! Read below
Rewards Scheme – we are introducing a new rewards scheme. For every £1 you spend, you get 1 point, when you get to 220 points you get a £10 off voucher. Just our way of saying thank you! Launched 1st June
PayLater option – we are now offering a new part payment scheme that allows you to split your course into 6, easy to manage payments. There's only a 2% extra charge and gives our clients lots of more flexibility, we can't wait to introduce it. More information coming soon. Launching 1st July
NEW skin friendly anti-bacterial spray – we've launched a new range of skin friendly, natural anti-bacterial sprays for your hands. They come in two sizes and also have a matching hand wash and hand lotion. We took a LONG time to find a brand and a product that we were happy with but we finally found S Aromatherapy, in Scotland, who produce a range of effective but skin friendly and gentle hand sanitation range. Launching 11th June.
Environ treatment RELAUNCH – Environ has relaunched their treatments and we have now 4 great new facials to bring to you! More information coming soon. Launching 1st July
Skincare geeks, it's official! – Maria, Elle & Chloe have been doing LOTS of training during this period, with refresher course on Environ, Dermalogica, Advanced Nutrition Programme, Jane Iredale and RevitaLash as well as COVID-19 specific training to make sure that they have the very best hygiene practices, we have been swotting up and have loads of great hints and tips to tell you about products!
Dermalogica, Environ, RevitaLash, now all online! – we have been working on this for a while now but ALL our products that you can purchase in clinic from us, Dermalogica, Environ, Jane Iredale, Advanced Nutrition Programme and RevitaLash, are now all available online via our Winslow Skincare Store.
YouTube Channel – Maria & Elle have been hard at work during lockdown to film over 40 videos with LOADS of skincare info! We have been sending them out on social media, emails and we will keep them coming for the next few weeks. Remember to give them a like and comment and let us know what you would like us to film next!
So that's a full update from us, we would also like to reiterate how amazing our clients have been over this period. We've received such kind messages and signs of support; it really means so much.
Thank you
The Winslow Team
14th August
Getting everything ready for tomorrow! It's been a very busy day so far with getting ready for clients and calling everyone to get booked in. If we haven't contacted you yet, please do drop us a call or a message and we will get back to you ASAP! ❤️
Here are our new appointment guidelines for tomorrow onwards, we can't wait to see you all then!
The Winslow Team ❤️
7th August
🤩 15th August 🤩
We were due to open on Saturday 1st August last week, unfortunately, on Friday lunchtime we heard from Boris Johnson that this would not be the case and we would have to wait a further two weeks, until 15th August.
Whilst this is very disappointing for us here at Winslow, and our clients, we have at least got a date to work towards and we are all ready to open our doors now when we are given the 100% go ahead!
If you did have an appointment booked during the first two weeks of August, we will be contacting you today to reschedule it for the 15th onwards. We apologize for any inconvenience caused.
We are SO ready to get back to normal and back to work and we can't wait to see you all in August soon!
The Winslow Team
31st July
It's a rollercoaster ride!
Unfortunately our opening date has been postponed again until the 15th August, we are of course very disappointed and will call all clients to reschedule. We apologise to all our clients for the inconvenience caused and we are sure that you will understand.
We were all so exited to reopen and with just 1 more day to go we really thought it was happening this time, very disappointing but we will get there, eventually!
…
The Prime Minister issued the hugely distressing news that face treatments, due to be allowed again in England from tomorrow, have been postponed until at least the 15th August. They advised that this is due to a worrying increase in the number of COVID19 cases currently in England.
We received the following statement from government:
As the Prime Minister has said, with infection numbers creeping up, our assessment is that we should tighten some measures in order to keep the virus under control.
We will therefore be postponing the reopening of those close contact services that involve operating in the highest risk zone around the nose and mouth, until 15 August at the earliest. At all times we are guided by the science and it is our ambition to reopen them as soon as we can.
21st July
We've put together a client email that we will be sending out to all clients before their appointment on 1st August, to notify them of all the changes we have been putting in place to make their appointment safe. Please read below…
Dear Client,
Over the course of lockdown, the entire team having been completing lots of additional training with Barbicide, Monroe Training academy and Dermalogica, specifically on how to reopen safely with COVID-19, as well as following the guidelines set out by the government. Therefore, we are very confident that we have all the correct procedures and measures in place to keep our clients safe.
Please read through our guidelines on COVID-19 clinic procedures:
* 24-48 hrs before your appt you will be sent a COVID-19 pre-screening questionnaire. It's only 5 short questions and we ask that you complete this before coming to your appt.
* Upon arrival please wait in your car, your therapist will come to collect you.
* Your therapist will have a thermometer and will check your temperature before starting the treatment. Also, all our therapists will have their temperature checked every morning before they start work.
* Please come to your appt alone, and leave any unnecessary coats, bags or items of clothing in your car.
* As you enter the treatment room there is hand sanitizer for you to use and a sterilized tray for you to place your belongings in. There is also a phone and jewellery sterilizer if you wish to use it.
* We ask that clients do wear masks if entering reception but in the treatment room your therapist will be wearing a face shield, apron and will be washing their hands before, after and during your treatment. If you are wearing a mask, it will have to be removed, once the treatment starts.
* We are keeping sufficient gaps between appts, so you won't meet anyone else, other than your therapist.
* We won't be providing any water or herbal tea
* All surfaces, machines and products will be thoroughly disinfected in-between clients.
* Unfortunately, the toilet won't be available unless absolutely necessary, so please plan ahead as we won't have the time to disinfect continuously in between clients, so if you do need to use them, it will be at your own risk.
*  We have installed a new ventilation system in both rooms so there is sufficient airflow  
*  The clinic will be thoroughly disinfected at the end of every day, as well as in between clients.
We will also ask that clients pay for appts 2-3 days in advance. This means that you will not have to touch the card machine or go into reception before or after your appt. Our reception team will be in contact to take payment over the phone or via bank transfer. If you have paid for a course of treatment upfront, then this above section won't apply for you.
In addition, as I'm sure you can understand, our costs have increased considerably due to the additional PPE and padding time between appointments, which is 30 minutes before and after each client, to maintain social distancing.
Whilst we do not want to increase our prices, we do need to recover some our costs and factor in the additional time in between appointments and the additional PPE.
For these reasons, we will be charging an extra £4 per appointment which will go towards covering the cost of your own personal PPE pack and allows us to factor in extra cleaning and sterilisation time of the treatment room between appointments.
We will do not plan to have this additional charge in the long term, we aim to discontinue it by September/October, but this is dependent on when and if government guidelines relax.
If you have a course of treatments booked then the cost is still £4 extra per appointment, not one payment for your whole course.
We hope that all of the above is clear, but please do let us know if you have any queries or concerns. We want you to feel as safe as possible whilst also enjoying your treatment experience.
If you wouldn't mind replying to this email to let us know that you've read all of the above and agree to all of the new measures, that would be great.
We look forward to seeing you again soon!
Winslow Skincare Team
20th July
❤️ Open from 1st August ❤️
We got our announcement from the government that we could officially reopen on Sat 1st August and we've had a super busy weekend of booking clients in and scheduling in courses of treatments, we can't wait to get back to doing what we love!
If we haven't contacted you yet, we do apologise, we are working our way through our list of clients and contacting everyone as soon as we can. You are welcome to book online and find an appt time that suits you as our online booking is now open.
We can't wait to get back to our lovely clients soon, not long now!
The Winslow Team ❤️
17th July
🤩 SO EXCITED 🤩
We've been waiting a LONG time for this day but finally we have a date! We will be contacting all our clients shortly to get you booked back in! Can't wait to see you all soon!
The Winslow Skincare Team
9th July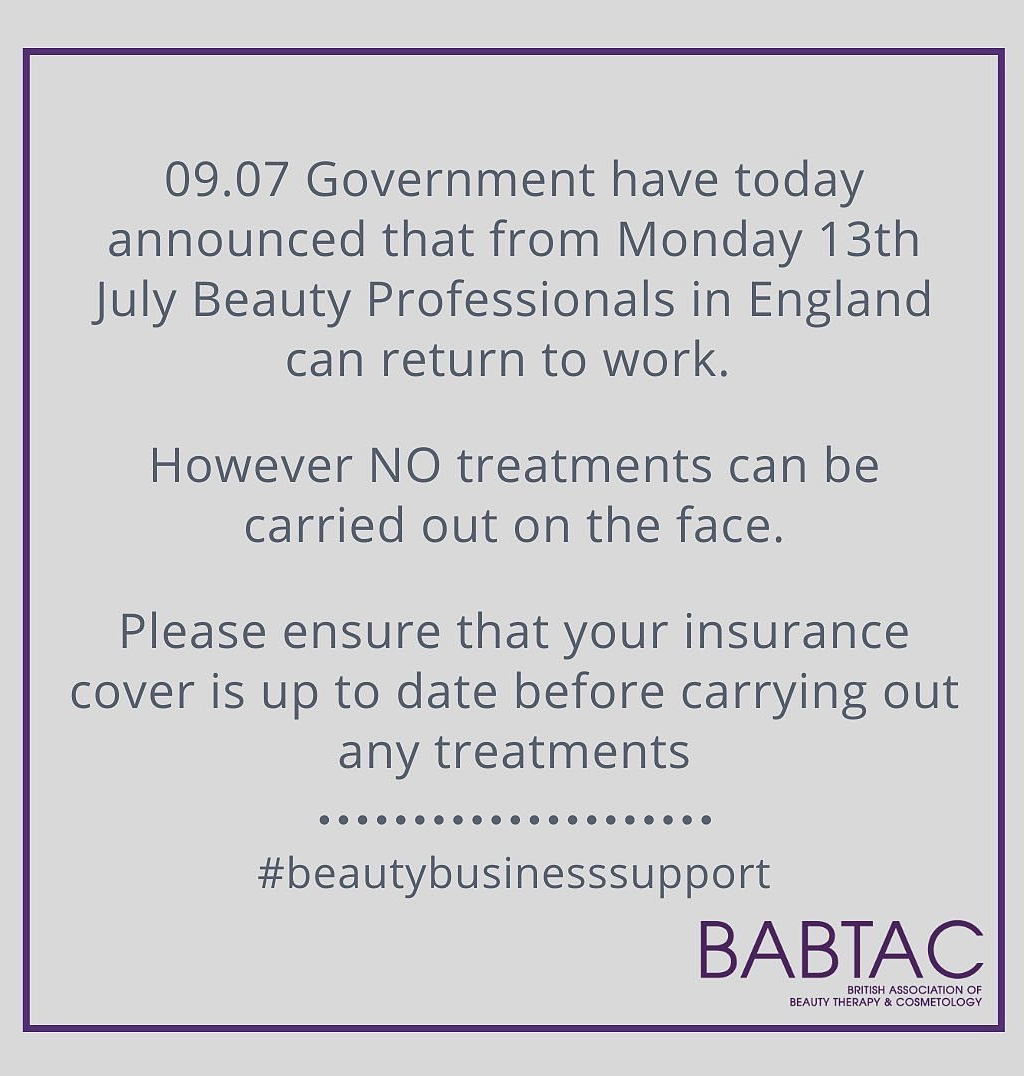 Sad news 😢 but we will hopefully get an opening date soon! As soon as we know more we will let you know and can't wait to get back to work soon!
#WinslowSkincare #SalonSafe #BackToWorkSoon
24th June
A little deflated 😕 but it seems we will not be opening on the 4th July as planned, we will be in contact with clients regarding their appointments
We are still waiting to hear a date for when we can plan to open and will let you know as soon as we do!
Until then we will continue posting and keeping our clients up to date with our video blogs and emails and we are still open for consultations, product orders and a skincare chat! Speak soon, The Winslow Team
28th May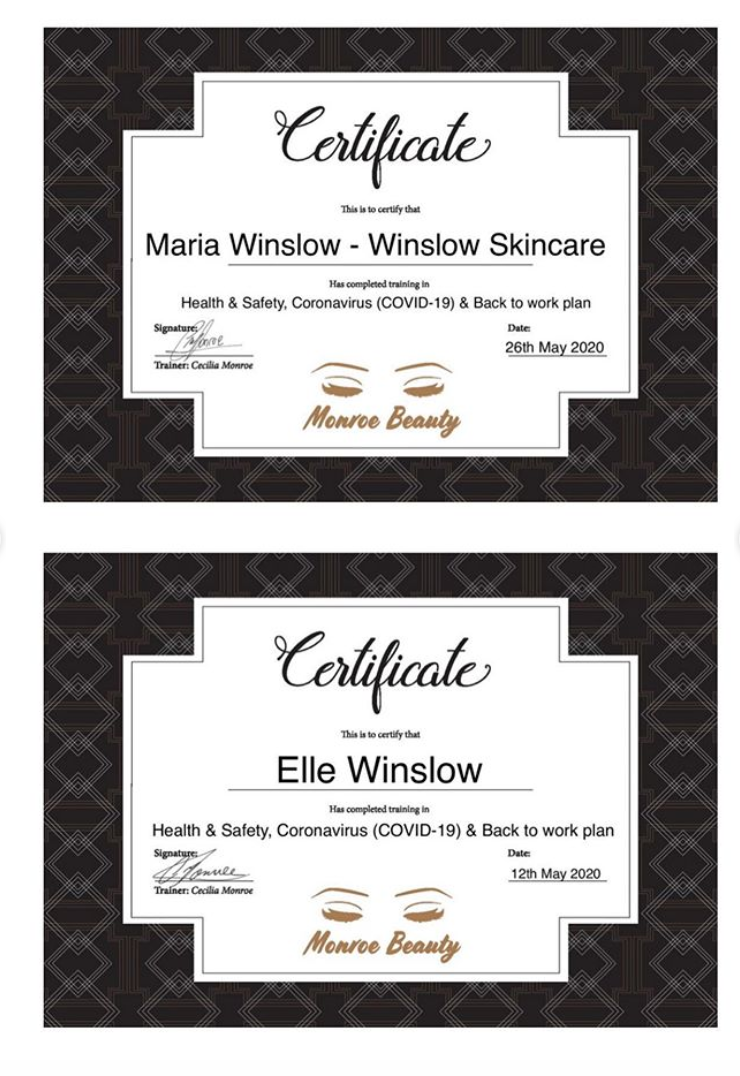 Clean Touch Certified
BARBICIDE Certified
Health & Safety, Coronavirus & Back to work plan, Monroe Beauty Training
So we've been busy learning at Winslow! Making sure that we've got the most up to date information possible on COVID-19 within the beauty and skincare industry.
This means that we will uphold the highest hygiene standards in the clinic, to ensure the safety of our clients, which has and always will be our number ONE priority.
So what do all these certifications mean?
It means that we have the most up to date methods, in line with the COVID 19 outbreak, on sanitization, disinfection, and sterilization in the beauty and skincare industry. So when we do get back to work, we can do so safely and totally prepared, with up to date knowledge on how to do so. 👍🏼 For those of you that have been following us on Instagram and Facebook, you would have seen us posting about our Dermalogica Clean Touch Certified. Also, our BARBICIDE certified and most recently our Monroe Beauty Training, Health & Safety with COVID-19
So we will keep you updated with any more courses we undertake to ensure your safety when we do return to work! Until then, stay safe everyone!
The Winslow Team
15th May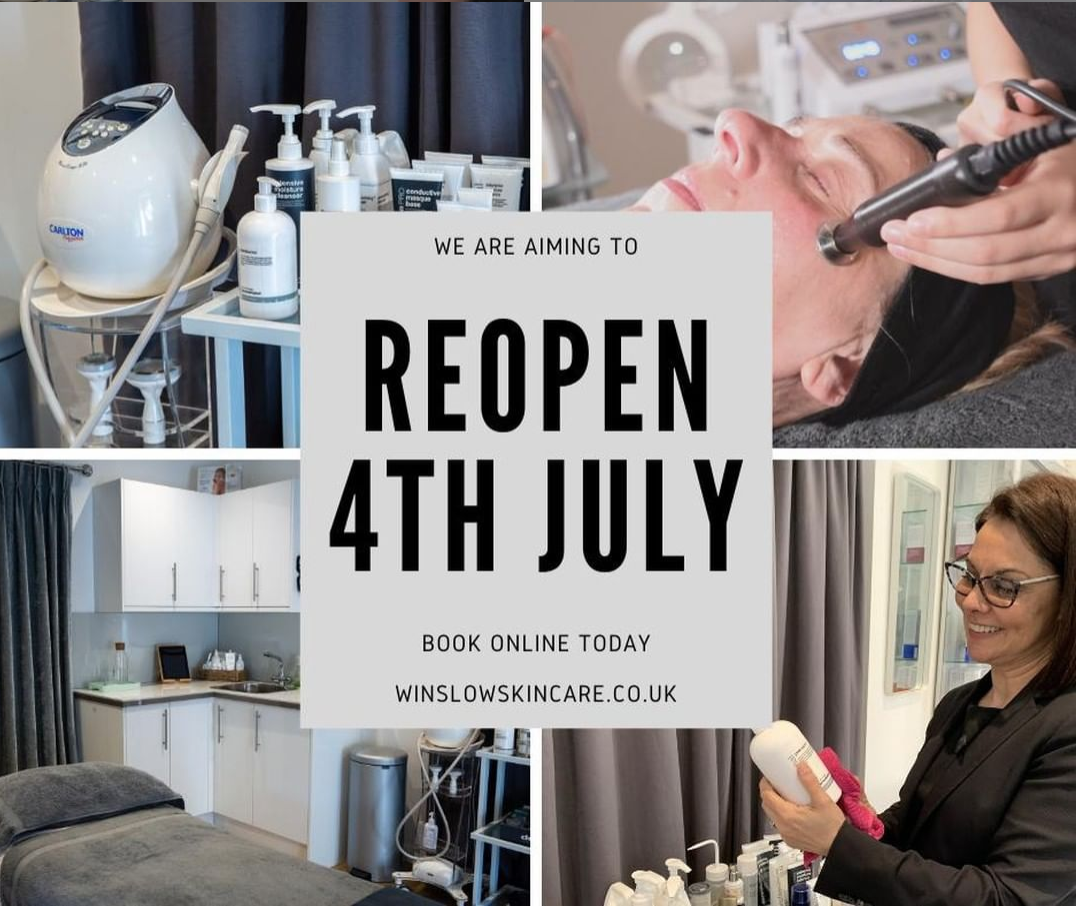 A date for when we are re opening, 4th July
So good news! We've been given a date by the government for when we may be allowed to officially reopen. So we've opened up our diaries and the online booking is now available from that date onward! It's first come, first serve so book your appointment today! P.S We should mention, as with all things COVID-19 related, this is subject to change with government advice and guidelines but if there are any changes with the dates we will let you know as soon as we do. Can't wait to get back to treating skincare again, The Winslow Team
23rd March
Dear Clients,
Here at Winslow we have taken the difficult decision to postpone all clinic appointments until further notice.
We aren't closing completely as we are still taking online skincare consultations and also dropping products to our lovely clients but we feel that given the most recent advice from the government over the weekend, it's not safe or responsible to continue performing treatments in clinic.
It's not a decision we've taken lightly and we want to stress that we will be open again as soon as it's safe to do so. Whilst we are not performing treatments however, we will still be keeping busy!
We will be offering skincare & makeup tutorials on Facebook, Instagram and via emails
Free products drops to all our clients in the Hayward's Heath area or free postage to those further a field
Online video or telephone skincare consultations
And many more new and exciting online services we will be releasing in the next few weeks!
So please don't think of this as another negative 'we are closing' post, we are going to continue serving and providing great skin for our clients as much as we can! And if there is one positive we can all take from the current situation, it is that we will all have SO MUCH more time to care the largest organ in our body! Our skin!
Time for some TLC, self care and self love! Let's come together as a community and support #smallbusiness
Thank you again to all our loyal clients who have supported us